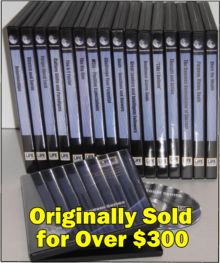 Original CD Price: $303
Internet Special: $149
This Month's Special Price: $99
For downloadable mp3 audio files



Add to Cart
Here's just a few of the things you can accomplish with the lessons you'll learn from Success Mastery Academy:
Build unshakable levels of self-esteem and self-confidence
Set and achieve goals in every area of life
Discover the success secrets of self-made millionaires
Manage your time better and double your productivity
Negotiate better deals every time
Increase your income and achieve financial independence
Communicate, persuade, influence more effectively
Release your full potential for success
Listen to this full-length audio from the original Introduction to the Freedom Series (ignore the information about the monthly purchase --- now you can own the entire Series at one low price).
Turn your speakers on and press play

15 powerful lessons that will show you how to move into that higher energy of maximum achievement:
1. Stretch and Serve

Responsibility is a choice. It is also the absolute key to your freedom. Here's how to recognize the "blame game" in yourself and escape from that mental prison forever. Learn what "responsibility" actually means, and what occurs when you become responsible FOR rather than responsible TO. Then, learn how responsibility actually coincides with service . . . to create the empowered end result of life you seek.

2. Great Leaders and Intelligent Followers - Best Seller!

Learn how to become the leader of your life – and possibly others, as well – by understanding the very core of a great leader. What are the features of a great leader? Why is that all great leaders started as followers? What actually makes up a great follower? Learn how to grow and mature exponentially in your own life as you learn to switch between the roles of great leadership and great following.

3. Culture Shifts and Paradigms

You cannot be free unless and until you know exactly what it is that governs, shapes and directs the apparatus that controls your behavior and the results that behavior gets you. That apparatus being, of course, your mind...and more specifically, your paradigms. You'll be amazed at some of the obvious, and not-so-obvious, influences that you are allowing to shape your life.

4. The X-Y Factor - Best Seller!

Why is it that no matter how badly you want a specific change or freedom in your life, you just can't seem to act on it . . . or, worse . . . when you act on it, it simply slips from your grasp? If you've ever wondered why it can be so difficult to make a change in your life that actually sticks, this is the Freedom Series for you. Here, Bob Proctor reveals truths about the "X" Factor in your life and how to overcome its many obstacles, arguments and flat-out revolt with that refreshing "Y" Factor you've always wanted.

5. Share the Wealth

Do you know that there is a concept based on absolute Law that will attract to you greater wealth in all areas of your life? In this Freedom Series, you'll find the answer to an ancient secret that will enable you (as well as entire countries of one mind around the world) to instantly shift your life's rewards. Bob Proctor explains the Law of Circulation and, when applied, its phenomenal results in our modern world's history.

6. Goals: Questions and Answers

Your goal isn't too big for you. Your goal isn't wrong for you. Instead, you might just be cob-webbed into one or more of the 13 Reasons Why Goals Fail. In this frank presentation, Bob Proctor walks you through the biggest issues he's dealt with when trying to accomplish goals, as well as the most common issues and obstacles he's heard about from the thousands of people who have asked for his consultation. Get on the right track for good!

7. Resilience Scores Goals

When you're feeling like it's just about time to give up on that dream, listen in to tales of people who came close to doing the same but, instead, committed to bouncing back and reching their goals. You'll learn why resilience is the key to all goal achievement; why it exists in the first place as your lesson; and learn about a number of world renowned people's lives who once struggled, too.

8. Thought & Action - Best Seller!

How is it that both the startling talent of Michelangelo and the rather ordinary acorn can teach us our most powerful lessons on The Law of Attraction? Here's how to believe like Michelangelo, "think" like an acorn, and follow-through on Bob Proctor's step-by-step actions that – once and forever – change the results in your life.

9. Relationships

When you embrace and exercise the freedom you have over the relationships in your life, your life will be profoundly, permanently improved in every aspect. And like everything, EVERYTHING else, it all starts in that magnificent mind of yours.

10. Purpose, Vision and Goals - Best Seller!

Here's how to determine your definite purpose and get past your own roadblocks (and everyone else's) to truly create the life of your dreams. You'll learn how to plot your course with short-term goals that adhere to your long-term vision, and come to recognize the warning signs when you've veered from your purpose.

11. The Big One

The real you has an urge to live in a much larger way. Here's how to recognize and get past your own "terror barriers," consciously re-program your thoughts for immediate positive return, and engage in the Four Phases of Thought Process to control your end result – every single time.

12. The Common Denominator of Success

What IS the secret ingredient that causes some people to be easily successful while others never quite reach the same heights? Here, you'll learn about purpose-driven lives and why some people are more willing to take risk because of their attitude toward risk … and then … the 4-part foundational secret is revealed.

13. Challenge Your Potential

When you step forward into growth, you won't only be challenging your potential – you'll be met by two opposing forces. One is an outside force (your environment of family, friends and situations) and the other is an inside force, your old conditioning that whispers sweet horribles in your mind. Here's how to conquer both with these action steps.

14. Multiple Sources of Income – Positive Expectations - Best Seller!

Can you imagine creating 10 … 40 … 100 DIFFERENT sources of income for yourself? For most people, that thought alone is a hard one to fathom – they immediately picture long, hard hours of never-ending work. But creating an MSI (Multiple Source of Income) isn't about increasing exponential hours of work or your focused attention– it's about increasing exponential, 'round-the-clock income through these incredibly easy steps.

15. Forget About Luck

Whatever happens in your life – good or bad – doesn't come by way of luck, lack of luck, fate, karma or sins of your forefathers. What happens in your life is up to you and the choices you choose to make. Its these very choices that will either work in harmony with the natural Laws of the Universe, or will act dysfunctionally against these very same laws. Interested in learning what these time-eternal Universal Laws might be?

$99me
Add to Cart